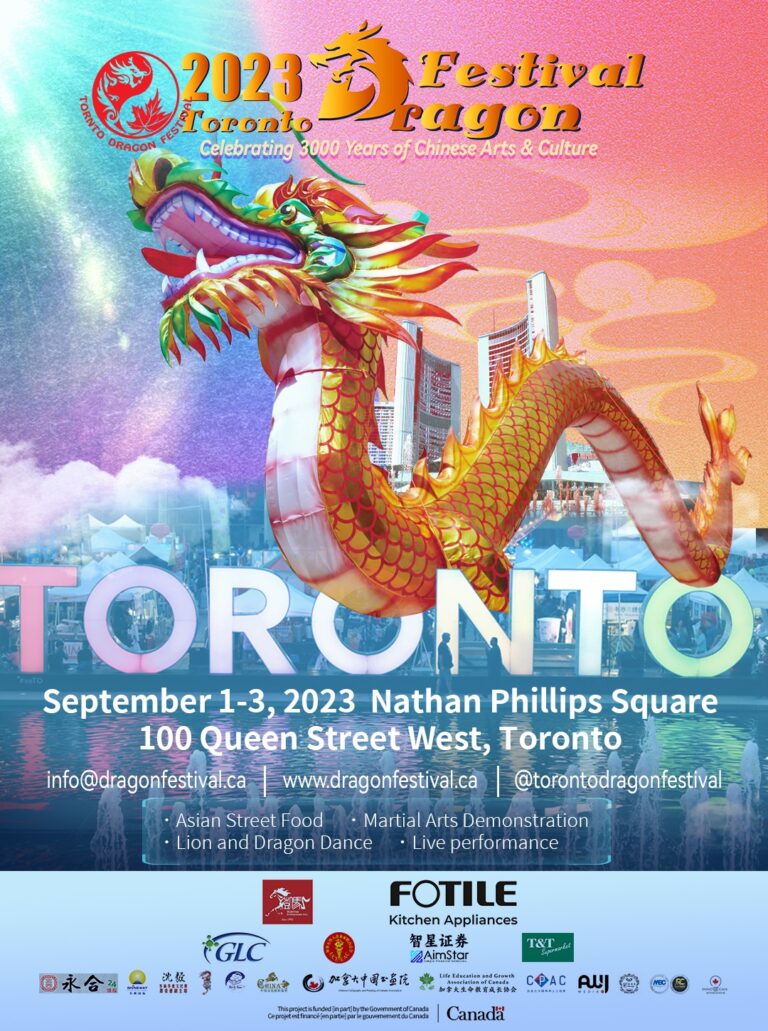 2023 Toronto Dragon Festival Returns to Nathan Phillips Square with Foods, Cultures and All New Lion Dance Competitions

Click to see the greeting letters from Prime Minister, MP, MPP, City Councillor and Officials
Toronto and the world are eager to watch the stunning acrobatic performances of the lion dance, but only better with competitions in 2023, exclusively at the annual Toronto Dragon Festival.
With the announcement of the 2023 Toronto Dragon Festival (TDF), visitors will keep themselves on their toes to watch all new lion dance competitions. Recognized internationally as a sport, lion dance competition will be featured in this year's Festival, bringing the rhythmic beat of the drums to the jaw-dropping stunts, and synchronised agility.
Festival goers can count on all their TDF favourites that have become a yearly tradition before the summer ends. From Asian street food to diverse cultural presentations, and the ever-improvised Reflection Water Show will all land on Toronto's iconic Reflecting Pool in Nathan Phillips Square in a much more spectacular fashion.
Where: Nathan Phillips Square, Toronto
When: Opening Ceremony, 7:00 p.m. – 8:00 p.m., Sept 1, Friday
Featured lion dance competition: 2 p.m. – 6 p.m. Sept 3rd, Sunday
To top last year's stunning high poles acrobatic lion dance, along with the incredible Kung Fu masters, Walk-On-Water runway fashion show, TDF will present a multicultural performance including Canada's Inuit throat-singing, Caribbean drumming, Philippine folk dances, not to mention a hundred food and merchandise booths that the Festival will gather for your local Toronto experience.
See and experience for yourself! The festival is admission free and family friendly. For more information, please go to the official website: www.dragonfestival.ca. The TDF is now accepting applications to be a booth exhibitor to enrich the ultimate shopping and entertainment experience at one of the largest Asian street festivals in Toronto.
For more information, please check at the official website: www.dragonfestival.ca
Media Contact: [email protected]
[email protected]
, or contact (647) 808-3881, (647) 298-7626.